Khantoke Dinner at Khum Khantoke
139 Moo.4, Nongprakung, Muang, Chiangmai, 50000 Thailand
Highlight
Traditional cuisine of Northern Thailand- Khantoke (Dishes for the emperor)

Enjoy watching folklore performance and Thai live music
This property is in high demand! Sorry, we have no service at this property on your dates.
Change Date
Restaurants Nearby
Contact Us
About Khantoke Dinner at Khum Khantoke
Experience northern Thailand traditional Khantoke dinner and delighted with Hill Tribe ShowYou will be warmly treated as the honoured guest under the light of the candle and lantern, served with various kinds of authentic northern Thai dishes and national Thai food. Also, you will find an impressive panoramic view of the architecture of Lanna theme with the warm colored lighting. At your choice, you can select to sit on the pillows in traditional style on the flat floor, or on the comfortable table which you can rest your feet and legs.
Activity Information
How to use
You must book at least 24 hours prior to arrival

You can present either a printed or a mobile voucher to enter to the attraction directly

The person who books and receives the confirmation voucher must present a valid photo ID/passport along with the voucher number

The voucher is valid only on specified date and time of the program
Important Information
Pickup time:18:45 - 19.15 hrs., depending on locations of different hotels. Precise time for pickup will be displayed once the reservation is confirmed.

Drop off:Hotels in city center of Chiang Mai

Plubpla Buffet Lunch is open daily from 11.00 - 14.00 hrs.

Khantoke Dinner is open daily from 19.00 - 21.00 hrs.
Inclusion
Folklore performance and Thai live music

ฺBuffet Lunch or Khantoke Set Dinner as per selected

Transfers from/ to hotels (major hotel in Chiang mai center only) (if booking includes transfer).
Exclusion
Personal expenses such as tips, alcoholic beverage, etc

Other services not mentioned on this programme.
Transfer Service
Transfer service operates according to pre-assigned and route only. Please let us know your hotel name during your booking process. We will confirm you the pick up time by email.

Extra charge will be applied for transfer in some Chiang mai area. (To be advised)
Remark
Menu may be subject to change without prior notice.

In any case of your booking isn't matched with reality when you show upfront (such as child's age, child's height, the quantity of people and etc), you are responsible to pay the additional charge upfront the show/tour. Hotels2thailand.com reserves the right to non-refund if the booking is mistaken reserved by guest.

Child rate is applicable for child lower than 120 cms, Child taller than 120 cms. will be charge as per adult.
Additional Info
Plubpla Buffet Lunch Menu

Rice Noodles in Fish Curry Sauce with Vegetables, Rice Noodles with Spicy Pork Sauce, Northern Thai Noodle Curry Soup (Beef, Chicken), Noodle Soup with Pork Ball, Pad-Thai (Thai Fried Noodles), Papaya Salad, Desserts on offer include Thai desserts, Seasonal Fresh Fruits, Coffee and Tea.

Normal Khantoke Food Menu

Chiang Mai Style Banana Fritter, Clear Soup, Chiang Mai Style Pork Curry with Ginger and Tamarind Sauce, Deep Fried Chicken, Grilled Young Chili Paste with Steamed Vegetables, Minced Pork in Tomato Sauce, Crispy Pork Skin, Stir-Fried Mixed Vegetables, Crispy Rice Noodle, Sticky Rice or Steamed Rice, Seasonal Fresh Fruit, Coffee or Tea

Vegetarian Food Menu

Chiang Mai Style Banana Fritter, Clear Soup, Chiang Mai Style Bean Curd Curry with Ginger and Tamarind Sauce, Deep Fried Bean Curd, Grilled Young Chili Paste with Steamed Vegetables, Minced Bean Curd in Tomato Sauce, Crispy Tofu, Stir-Fried Mixed Vegetables, Crispy Rice Noodle, Sticky Rice or Steamed Rice, Seasonal Fresh Fruit, Coffee or Tea.

Halal Food Menu

Chiang Mai Style Banana Fritter, Clear Soup, Chiang Mai Style Chicken Curry with Ginger and Tamarind Sauce, Deep Fried Chicken, Grilled Young Chili Paste with Steamed Vegetables, Minced Chicken in Tomato Sauce, Crispy Tofu, Stir-Fried Mixed Vegetables, Crispy Rice Noodle, Sticky Rice or Steamed Rice, Seasonal Fresh Fruit, Coffee or Tea
How to get there
Address: 139 Moo.4, Nongprakung, Muang, Chiangmai, 50000 Thailand

Khum Khantoke is located on the eastern side of Chiang Mai city on the Superhighway close to Carre Four Hyper-mart
Attractions or Hotels nearby Khantoke Dinner at Khum Khantoke
7 Days Vintage Hotel Chiang Mai

Distance <2 km

7 Days Hotel Chiang Mai

Distance <2 km

Khum Phaya Resort & Spa Centara Boutique Collection Chiang Mai

Distance <2 km

Bossotel Inn Chiang Mai

Distance <2 km

Khum Phaya Resort & Spa Centara Boutique Collection Chiang Mai

Distance <2 km

7 Days Hotel Chiang Mai

Distance <2 km

7 Days Vintage Hotel Chiang Mai

Distance <2 km

Oasis Oriental Secret Spa Chiang Mai

Distance 3 km

The Balcony Village Chiang Mai

Distance 3 km

RarinJinda Wellness Spa Resort Chiangmai

Distance 3 km

Ketawa Stylish Hotel Chiang Mai

Distance 3 km

137 Pillars House Chiang Mai

Distance 3 km

Sala Lanna Chiang Mai

Distance 3 km

Eco Resort Chiang Mai

Distance 3 km

Nasaraan Chiang Mai

Distance 3 km

Puripunn Baby Grand Boutique Hotel Chiangmai

Distance 3 km

Dhara Dhevi Chiang Mai Hotel

Distance 3 km

Oasis Hotel Chiang Mai

Distance 3 km

Oasis Baan Saen Doi Spa Resort

Distance 3 km

Rimping Village Chiang Mai

Distance 3 km
Restaurants nearby Khantoke Dinner at Khum Khantoke
Excellent, 8.0
309 Review(s)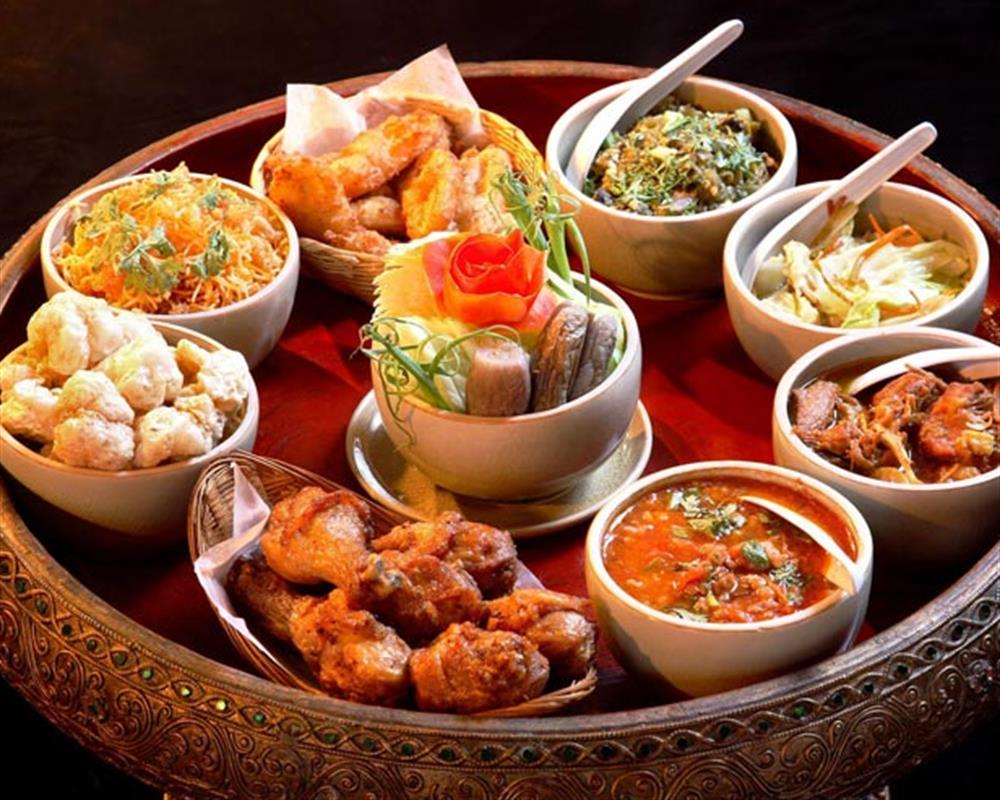 Chiang Mai Thailand
Khantoke Dinner at Old Chiang Mai Cultural Center
Related Restaurants of Khantoke Dinner at Khum Khantoke