Khao Yai National Park + Trekking From Bangkok Private Tour
Highlight
Explore Khao Yai National Park, a UNESCO World Heritage site

Experience elephant riding in the jungle and crossing the creek as well.
About Khao Yai National Park + Trekking From Bangkok Private Tour
Khaoyai National Park, located at Northeast of Bangkok just about 175 kilometers far away, is full of mountains in the area, reaching the highest point at the peak of Khao Rom (1,351 meters above sea level). Other highlights of the park are Khao Pha Pa (1,078 m abs.), Khao Sam Yot (1,142 m abs.) and Khao Kiew (1,292 m abs.) and Khao Lame (1,326 m abs.). A mountain range from the north and the east of the park together with another lies in the west supply a large quantity of water to the 5 important waterways throughout. Since July 14th, 2005 Dong Payayen-Khaoyai, another peak spot in the park, has been approved from the UNESCO as a Natural World Heritage in the criteria of forest fertility and national and international biodiversity values. This value has been given for the range of forest ecologies which are mixed deciduous forest, dry evergreen forest, hill evergreen forest, moist evergreen forest and dipterocarp forest that has various flora and fauna, and offer a home for endangered animals including birds, reptiles and mammals.
Activity Information
Important Information
Khao Yai National Park has three main seasons, with an annual mean temperature of 23° Celsius, though this varies greatly with the seasons.

Rainy season (May–October): Most days have high rates of precipitation. The atmosphere is humid with average temperatures of 27° C during the day dropping to 13° C at night. Streams at peak flow.

Cold season (November–February): Clear skies, sunny and cool. Average temperatures of 22° C during the day and 10° C at night. Good time for hiking.

Hot season (March–April): Humid with daytime temperatures of 20–30° C and 17° C at night.

Please don't sound the horn of your car or turn on the headlights when you encounter wild elephants on the road. They may become stressed and frightened and attack. Park your car and keep some distance between you and the elephants, at least 15 meters away. Wait until they go back into the forest. Most importantly, don't get out of the car.

Don't feed animals in the park. They are familiar with humans and may approach you for food. Feeding animals affects their natural behavior. In addition, some foods cause problems in the animal's digestion system.

Don't bring your pets with you. Pets and wild animals may transfer diseases. Don't release your animals into the wild. They can't compete with wild species for food and territory and will probably not survive.

Please do put your rubbish in the bins provided. It's even better if you take your rubbish with you when you leave the national park. This will help the park staff a great deal and help keep the park clean.

Avoid any activities that may disturb or pose dangers to animals and plants in the forest.

Don't bring threaten items such as guns, hunting tools, crackers or fireworks of any kinds and don't behave in a way that upsets or disturbs other people. The park is for everyone to enjoy.

Please help care for the natural beauty of the park as laid down be the National Park Act of 1961 or recommendations made be the park officers.
Inclusion
Insurance

Lunch

Tour programs as indicated in the itinerary.

Transportation with pick up and drop off from hotel in Bangkok city area.

English speaking guide.

National Park fee
Exclusion
Personal expenses such as tips, alcoholic beverage, etc

Other services not mentioned on this programme
Transfer Service
Transfer service operates according to pre-assigned and route only. Please let us know your hotel name during your booking process. We will confirm you the pick up time by email.

Extra charge will be applied for transfer in some Bangkok area. (To be advised)
Remark
Child height between 90 -140 cm. and under 10 yrs old is considered to pay child rate.

Child height over than 140 cm. and older than 10 yrs old is considered to adult rate.

Child height under 90 cm and age under 3 yrs old is FREE of Charge for 1st child (share seat or eat with adult). For second child, customer (parent) will have to pay to the driver. It's depend on tour packages.

In any case of your booking isn't matched with reality when you show upfront (such as child's age, child's height, the quantity of people and etc), you are responsible to pay the additional charge upfront the show/tour. hotels2thailand.com reserves the right to non-refund if the booking is mistaken reserved by guest.

Please plan to meet your tour guide at your hotel lobby at least 15 minutes prior to scheduled pick-up time.

Late arrivals: If you arrive more than 10 minutes late or after we have moved from your hotel, you may be considered a no-shows.

Please note that the itinerary and timing are approximate and may be modified without notice to fit the tide and local weather conditions.

This tour operates everyday.
Attractions or Hotels nearby Khao Yai National Park + Trekking From Bangkok Private Tour
Day Trip nearby Khao Yai National Park + Trekking From Bangkok Private Tour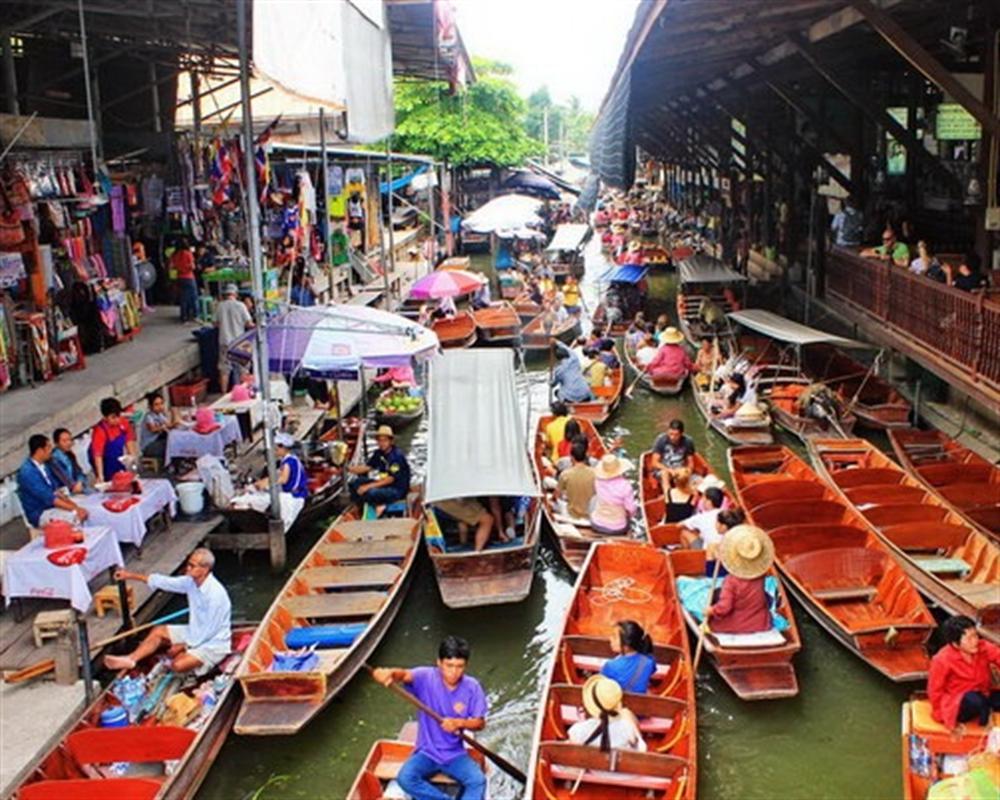 Bangkok Thailand
Damnoen Saduak Floating Market
Related Day Trip of Khao Yai National Park + Trekking From Bangkok Private Tour